Introduction
During the COVID-19 pandemic, the whole world has been tested. Governments and companies have been forced to demonstrate their readiness to allow essential businesses, workers, and services to continue as normal as possible in these trying times. We have all been forced to adapt to these new restrictions, wherein IT has played a crucial role in keeping our governments, business, and lives moving forward.
In this blog article, we're going to examine one of the factors in how governments, businesses, schools, and other industries have successfully managed to sustain quality IT services with limited resources and remotely working employees – IT service management (ITSM).
IT Service Management (ITSM)
Keeping IT services operating as efficiently as possible is essential since more and more businesses rely on them for their day-to-day operations. ITSM is a discipline that allows organizations to capitalize on IT to optimize business value. It refers to implementing and managing all related aspects of IT from the services to the customers. When properly observed and applied, it ensured that you get exactly what you want from your IT service.
Additionally, with IT service management, core IT functions are considered services; that's why it's called IT service management. By breaking IT functions up into services, we're able to clearly define the scope of a service, develop a strategy for properly and efficiently delivering it, and develop metrics for continual process improvement of the service over time.
Let's take a school, for example, where due to COVID-19 and remote learning the school's administration creates a technical coordinator role, where the technical coordinator services as a liaison and subject matter expert (SME) to teachers. If we use ITSM, we can create a service catalog of services the technical coordinator provides. For example, maybe the technical coordinator can assist with setting up Zoom sessions, is able to provide troubleshooting services, or is able to provide best practices for online remote learning. These can be broken up into discrete services, allowing the teachers to request them via a service catalog, and the technical coordinator to more effectively deliver those services.
IT Infrastructure Library (ITIL)
Now that you're familiar with ITSM let's talk about ITIL. So if ITSM focuses on the mindset and the practice itself, you may think about ITIL as its playbook. Originated in the 1980s, ITIL is an ITSM framework used to help organizations optimize their IT services. It's widely used worldwide, and something I suggest you learn.
ITIL is a collection of ITSM processes and playbooks that follows a cyclical methodology with a total of five phases, which gives you a holistic and integrated framework for utilizing and implementing ITSM:
Service Strategy
Service Design
Service Transition
Service Operation
Continual Service Improvement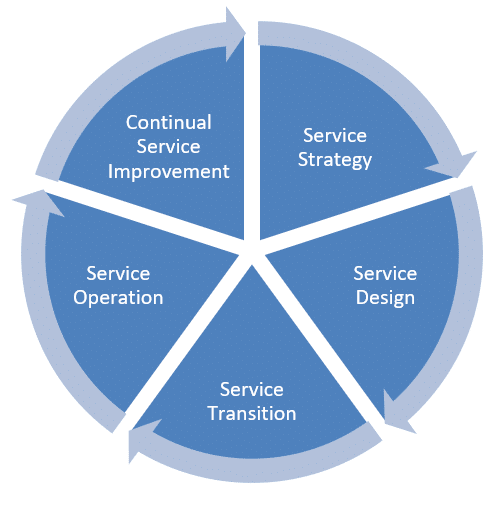 With ITIL, the Service Strategy drives the Service Design, Service Transition, and Service Operation, and Continual Service Improvement, meaning your overall IT and business strategy plays a role in the design of your service, transition into it, the effective operation of it, and continual improvement of it over time. By following a cyclical process, we ensure we're constantly aligning IT with the business, considering IT as a service to the organization and our customers, and we're always looking to improve it further.
ITIL Certification Path
When it comes to ITIL, there are numerous exams where you start at the foundational level, move your way up to the practitioner level, and if you aspire to be, you can eventually become an ITIL expert for your organization. I'm personally only ITIL Foundation certified, which is designed for awareness-only, but I've played my part in numerous ITIL activities where I work. Even with just the Foundation-level certification, you learn the basics of all aspects of ITIL.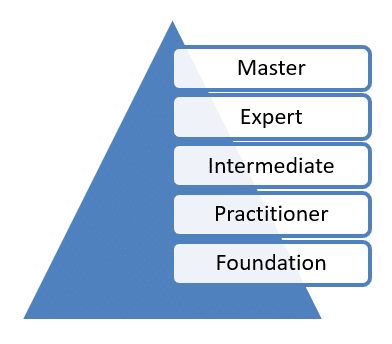 Why You Should Know ITIL
Understanding IT as a Service
Now that you know the basics of ITSM and ITIL, hopefully, you see the value in IT service management. Even if you don't plan to work in IT service management, regardless of your role in IT, knowing the bare-bones fundamentals of ITSM is important. That way, if someone that works in ITSM and with ITIL approaches you, you can then contribute intelligently to the ITSM discussion.
It's used Across the Globe
ITIL is being widely adopted across the globe. This means that a lot of these companies are constantly looking for qualified IT professionals who understand and know how to implement ITIL and ITSM in their organization. On Indeed.com, there are over 11,000 jobs posted with ITIL as a desired qualification, and close to 3,000 for just the ITIL foundation beginner certification alone.
Career Opportunities
Getting certified helps open a lot of doors for your career. Being certified in ITSM also allows you to potentially request a better compensation package and stand out from other candidates. Knowing the ITIL framework allows you to wear many hats, as they say, making you more valuable to your team.